About Releases.
One of the most essential personal attributes of working in the Salesforce ecosystem is being a lifelong learner. Salesforce has 3 major releases a year (Spring, Summer & Winter) and they provide a wealth of resources to help us stay connected and up to date. Since my Salesforce Journey began in 2010 these resources have gone through continuous improvement and I am going to share with you my strategies and best tips for staying connected and learning about the Salesforce Spring 20 Release.
Tip 1: Google is your friend
Salesforce makes it easy to find information. Just open a browser and search for Spring 2020

Your search results will return a wealth of information. But where do you start?
Subscribe to the Admin Digest . I find the information shared in the Admin Digest very helpful in staying connected. They always post about release information and share critical dates and links to essential information. Their motto is "Good Stuff, No Fluff".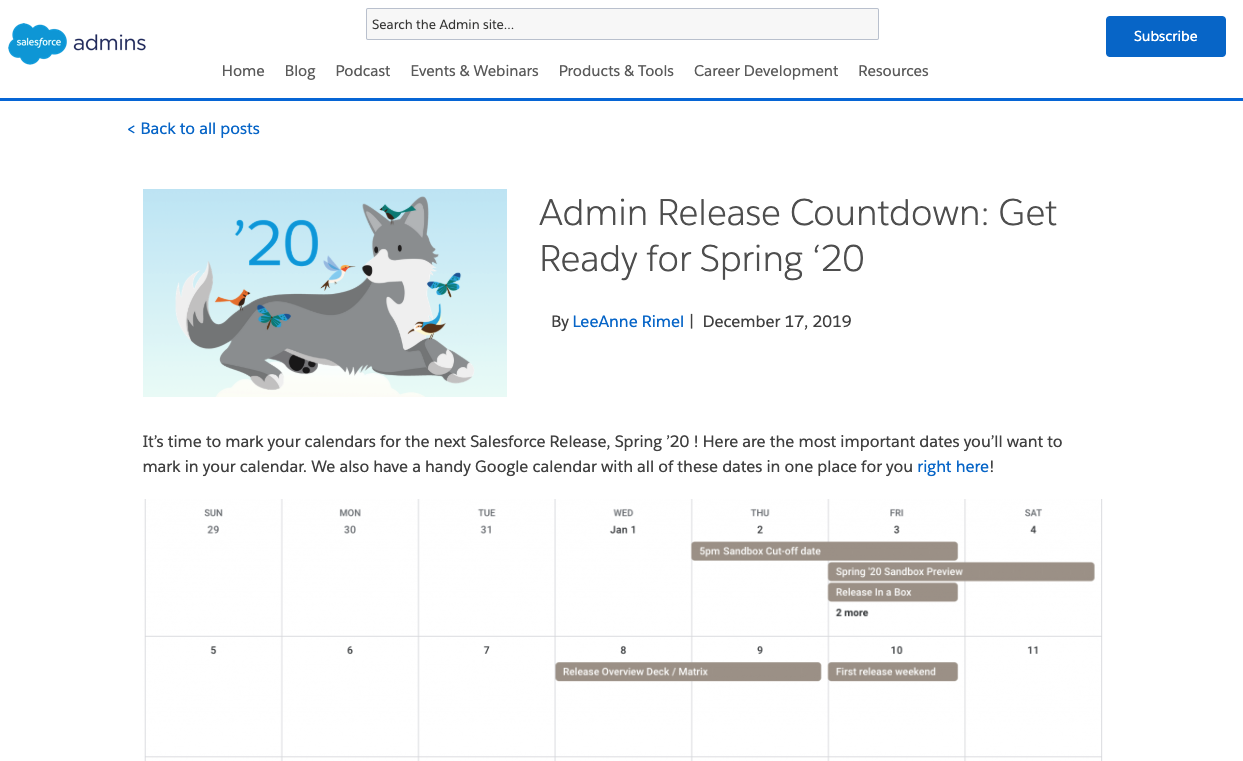 Join the Release Readiness group on the Trailblazer Community. Click Here to land on the Featured Groups page and look for "Release Readiness. This team is AMAZING and this is my 1 stop shop to access everything related to releases.



All of the essentials are in the left navigation menu on the group page (screen shot below). They provide links to everything in one single place.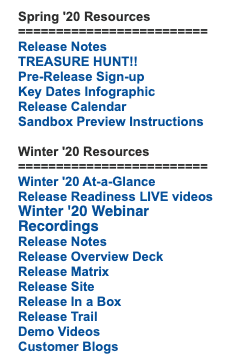 TIP 2: Develop a strategy
I suggest making a checklist that you need to follow for every release. When it is time for a release you grab your list and start working through your tasks. I find this is very helpful and keeps me on track. Below are some steps I take that work for me.
Step 1: DATES DATES DATES
I get the dates and put them on my calendar and set the reminders. Let's be honest, we have busy lives and busy careers. I add the dates to my calendar so I don't miss them.
If you navigate to Trust you can view your instances and get the specific scheduled dates.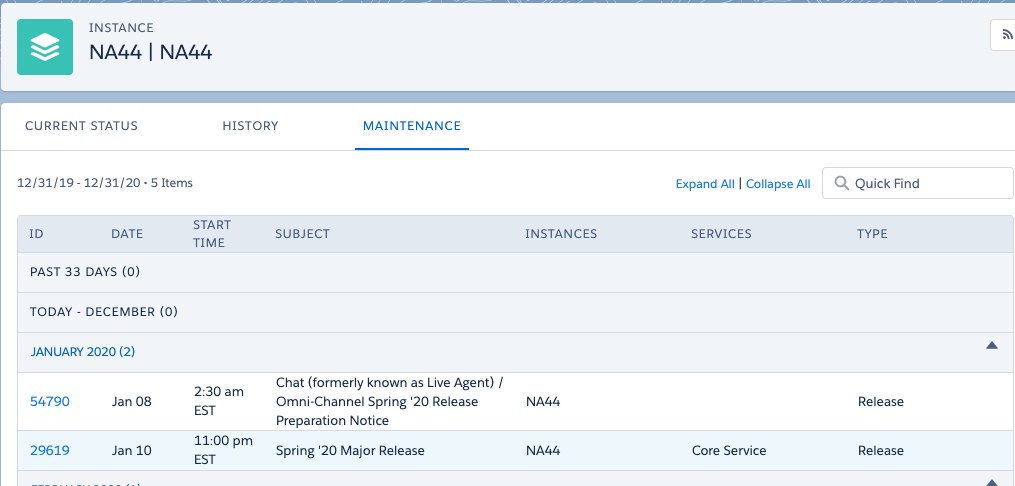 They Key Dates information Graphic posted in the Release Readiness Group is also very helpful in identifying important dates. This can be accessed in the left navigation menu I mentioned above.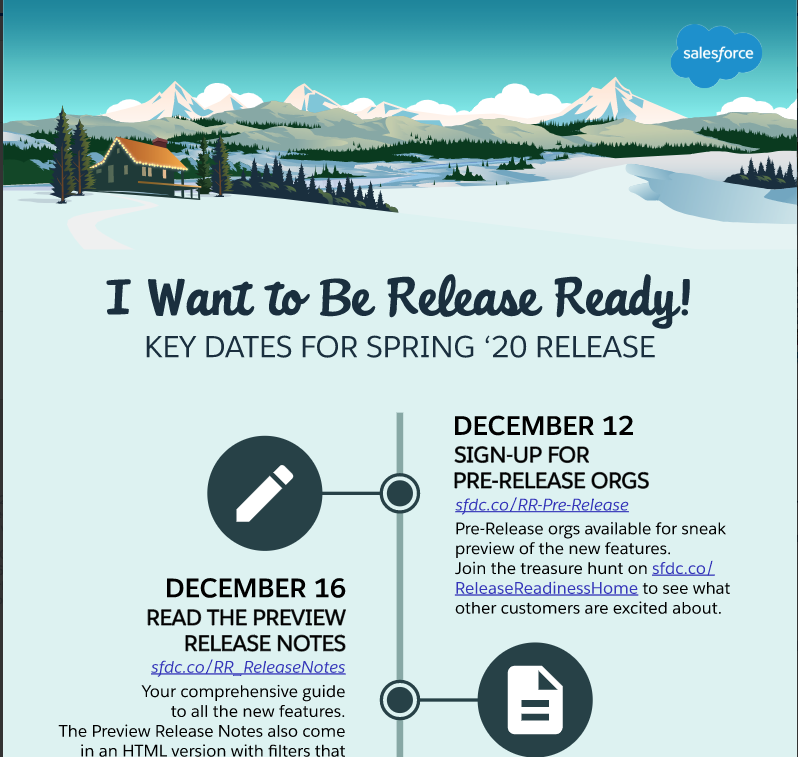 Step 2: Follow your change management process.
This no longer applies to me in my current role but I use to be an Admin for a Salesforce customer. We had a change management system where all changes (requested, planned, and completed) were tracked. As soon as I receive the dates for the new release I would create the change management ticket and schedule for the appropriate release. We had specific tasks that were to be completed for each release and they would all be recorded against this ticket.
Step 3: Prioritize your learning
Every new release has a lot of information. This can be overwhelming. I prioritize what I need to learn. Below are the buckets I utilize. I developed this process when I was an administrator. Now that I am a consultant I have a slightly different lens but I still utilize pretty much the same strategy.
What do I need to know before the release goes live?
What do I need to know because it can have an impact?
What does not apply to me?
Everything else.
Here is some insight on how I work my way through a release. I start with the release notes and I look for items that are immediately enabled for users.

In the example below "Prepare for Google Chrome's Changes in SameSite Cookie Behavior That Can Break Salesforce Integrations" is enabled for users. This means this will be there immediately when the release is live. I would evaluate this items and determine next steps and record them in the change management ticket in Step 2 above.
Sometimes your next step is Education. In the screen shot below see "Empty the Recycle Bin in One Step". I would test this feature in my sandbox and document it in my education deck. For each new release I create a powerpoint deck of the new features and document how they are used. When the new release is ready to go live this deck can be used to train the business users. For me, this is the deck I use to provide an overview to other Consultants at Fonteva.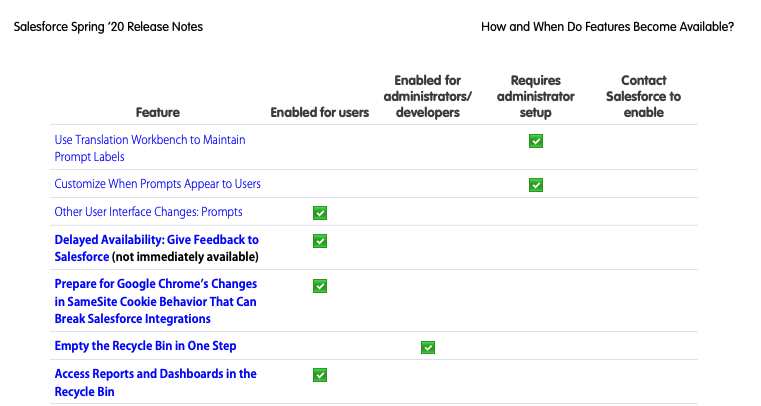 The Release Readiness team provides what I believe is the single most useful tool for evaluating releases. The Matrix is published to the chatter group and Salesforce has already categorized the items I need to review before the release goes live by indicating them in Green. I can filer the sheet to those items and start working through the list. In column D I can indicate my outcome. For example, if they have an item marked Green but I find it does not apply to me than I can update Column D with Black and then filer it out from my view.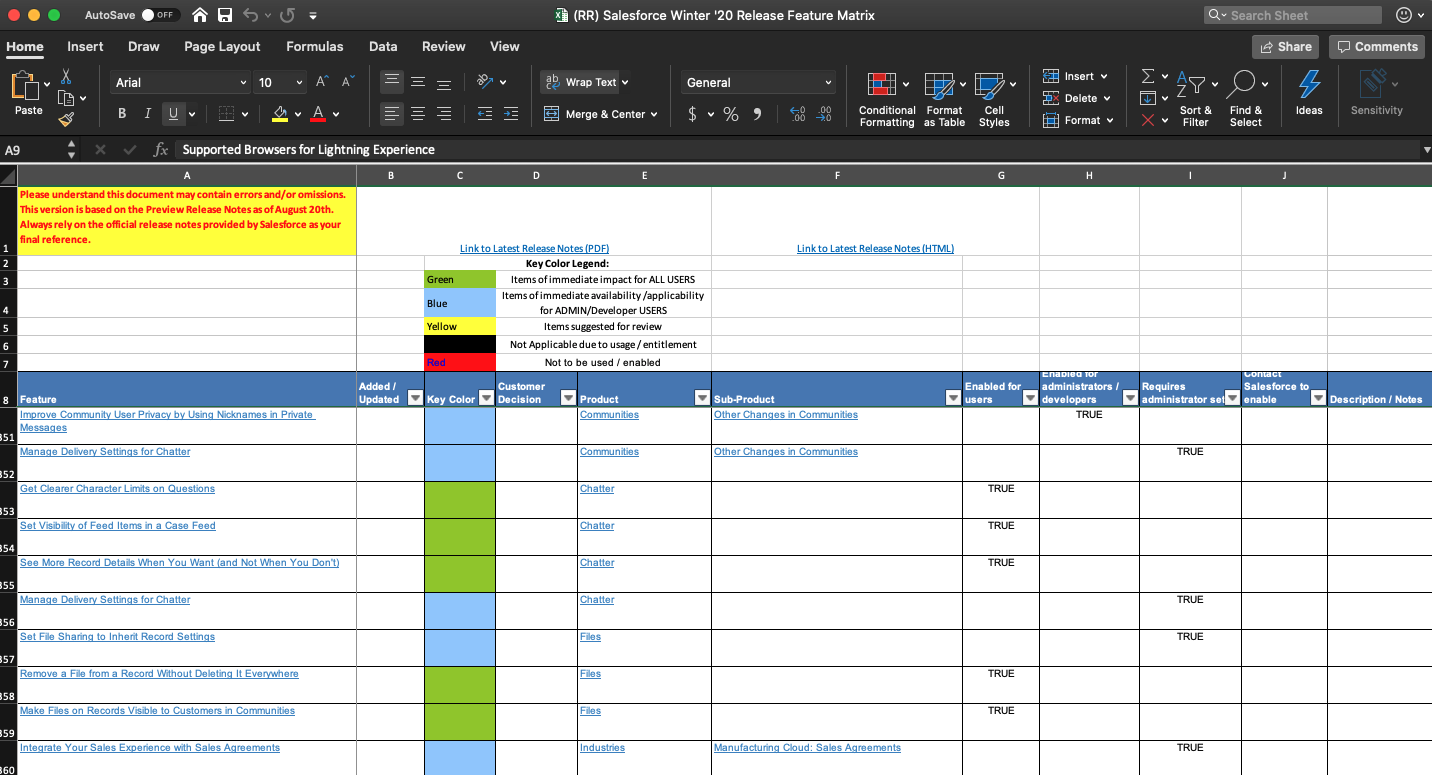 After I have worked my way through the green items I can then move on to my next bucket "What do I need to know because it can have an impact?" This is where I start working through the remaining items and I make a decision. If the item does not apply to me then I mark it black. If the items can have a positive impact on my instance then I mark it Yellow. Everything else is left blank.
The Yellow list becomes my "What do I need to know because it can have an impact?". Going back to my "Change Management Process". These would be entered as tickets in the tracking system and would be in the backlog. They would then be evaluated and worked into our roadmap. As I learn about each item I would include this in my evaluation and record the appropriate value in the ticket. During this process I might determine we should not use something and I would update the Matrix to Red or Black, whichever is appropriate.
Finally, the "Everything Else" bucket. I can now filter the sheet to where Column D is not set to a specific color. This should be everything else that was not already reviewed. I work through these items using the same strategy described above. These items will end up being set to either Yellow, Red or Black upon the completion of my review.

At the end of this process I have learned about each change/feature in the new release. I also have a valuable take away. The Release Matrix can be used to show the value for the business.
Green = Immediately available and have been included in my training deck.

Yellow = Items that can positively impact the business and have been added to the backlog.

Red = Items we should not implement

Black = Does not apply
This is just some insight on how I keep up to date on Releases. My learning is rolled into the evaluation of the release. I hope you have found some tips in here that you will be able to utilize. I would love to hear some of your tips for tackling a new release.